Los Angeles based group Luna 13 is an interesting band in that they manage to combine the ambiance of black metal with EDM, incorporating avant garde performance art qualities along the way. Recently, the band was allegedly shut down mid-performance at the Artisan Hotel in Las Vegas after some brief nudity on stage as part of a blood ritual (Vegas sure has become prudish since the days of Showgirls.)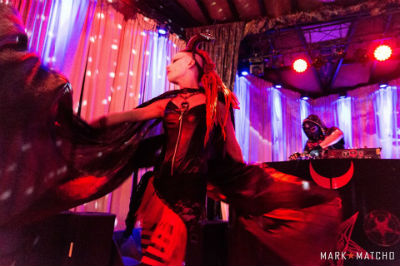 Luna 13's new EP "Devourer of Light" lives us to the darkness in its name. You get the idea right away with the first track, "Long Pig," which kicks off with a cute little xylophone style intro before unleashing the gates of hell. "Long Pig" reminds me a lot of 90's horror movie music, but in this case it is more artistic and creative and doesn't come off as cheesy. It's also strangely danceable, despite the unique title. "Tick Twitch Bang" is a little bit more metal, at times almost sounding like a mix between industrial, black metal and maybe even screamo,(although without any of the whiny emo lyrics.) The chorus, "Tick Twitch Bang, lost your brain, all these voices call you insane" actually manages to be kind of catchy. "Decimate" has a hypnotic quality to it. Even with a lot going on musically and some serious loudness, the vocals are somewhat soothing. I almost felt like after listening to this track like I had just been programmed to do something bad and was ready to carry out my orders. Just listen to it, and you'll understand. The final song on the EP, "Be Your Own Master" has the best intro (and outro,) which consists of creepy circus-like music.
This band would be great to see live, particularly in a venue where a lot of unsuspecting normies would be held hostage to the performance. It would be fun to watch them twitch and squirm and then slowly, begin to enjoy it. At the end of the day, this is pretty good music that the whole family can enjoy.

http://www.luna13.net/
http://www.facebook.com/luna13official
http://www.instagram/luna13official