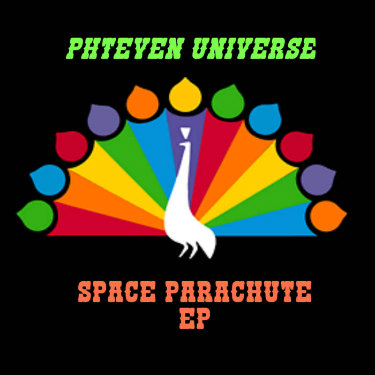 A while back I reviewed the single, Space Parachute which had initially been released by Francis Nally under the moniker "King Trode." Well, now the song is officially out in the form a the title track of a new EP, falling under the umbrella of Nally's Phteven Universe project.
There's no point in re-reviewing the song Space Parachute, since my original remarks on it still stand:
What a sparkly little synth hook this jam has! It's as if someone threw something together really quick, chucked it at a wall and it bounced in my direction and stuck in my head like a superball to the brain. Basically, this track is the little orphan Annie of hidden indie pop hits. King Trode's Space Parachute is exactly what it would sound like if you took Sega Genesis video game music and added vocals that sounded eerily similar in style to those of Dal Winslow of The Trashmen singing the 60′s classic, Surfin Bird (aka "The Bird is the Word" song.)
However, it's worthwhile to discuss the other content included on the EP. The second track, Ralph Was a Homosexual is an electronic dance jam based around a sample taken from a bizarre 1961 PSA titled Boys Beware, which warns against the dangers of "homosexual predators." There are no lyrics to speak of other than the voice from the sample saying "Ralph was a homosexual" at various speeds (and sometimes abbreviated.) It reminds me of techno songs from the early 90s, which used samples from old movies during a brief break in the music, followed by the beat kicking back in. L.A Style's hit, James Brown is Dead is a classic example of this, as well as Euphoria's I like Noise. However, Nally's song is more of a laid back, hypnotic space synth than any kind of intense opera techno. My favorite part of the song is the Simon Says / Close Encounters styled synth that makes an appearance at the 1:36 part. I wish it had come earlier in the song, but it's worth the wait.
The next song, MACH!NEZ is a brief one, clocking in at just less than a minute, but it makes good use of panning and the beat is impressively memorable. I could actually see MACH!NEZ being used as some kind of techno-futurist or transhumanist national anthem, to be played before animatronic basketball games someday.
The EP rounds out with a 9 minute live recording of Phteven Universe performing at The Sound Hole in Philadelphia, PA. For a live venue performance the music comes through surprisingly crystal clear. I was expecting it to sound kind of shitty with a lot of drunk normie voices and feedback in the background. So, even though this EP is technically four tracks, it actually includes several "bonus" songs within the live performance track, each of which are of excellent listening quality.
Space Parachute is a solid EP in its totality, but it is worth it even for just the opening song.
EYES ACUTE, SPACE PARACHUTE,
WAS WONDERING, IF YOU LIKE TO DO IT AGAIN!
Yes, I think I will listen to this again. Don't mind if I do.
For more info:
https://choamcharity.bandcamp.com/album/space-parachute