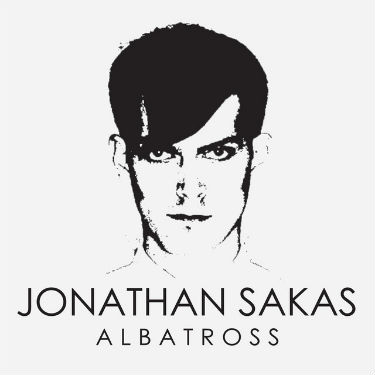 So I was fortunate enough to get my hands on an advance copy of Jonathan Sakas' (pronounced like "say kuss") debut album, Albatross. He had previously released an EP Death of the Iceman. Jonathan has been around in the Phoenix music scene for years, and I recall seeing one of his bands play at Plaid in late 2006 era. He has only recently began to break out and make a name for himself.
Being somewhat of a minimalist, I knew immediately that I would like Jonathan Sakas' Albatross when I saw that he used "one word" song titles for each track (Grapes, Oysters, Striker, etc) The songs themselves are not minimalist but rather extremely well polished, proficiently performed, professionally produced quasi-masterpieces.
A variety of synthesizers and other electronic instruments are made use of, with some guitar sounds thrown in here and there. My favorite track on the album is the first song "Striker," which is peppy and catchy, as in will be sure to catch your attention. The other potential hits are "Porridge," the third song and also "Marie" which has an excellent keyboard intro that seems to scream "instant pop phenomenon." Apparently, I'm not the only one who thinks so, as "Marie" was selected to be on the new Zia Records Compilation CD slated to come out in the near future. That's quite a testament to the quality of the jam, given that there are a zillion established Phoenix bands and Albatross hasn't even been released yet.
There tends to be a stigma in Phoenix against acts that appear to take their music seriously. People look at you as if to say "Who does this guy think he is? Why doesn't he have his shirt off and a can of Pabst Blue Ribbon in his hand like the rest of us?" It's part of the 'white trash chic' mentality that plagues much of the Southwest. The reality is that Phoenix as a whole probably doesn't take itself seriously enough. Jonathan Sakas represents just the kind of 21st century artistry this town desperately needs.
If Jonathan keeps at it and doesn't get distracted by ordinary life prospects or seduced by constraining relationships, I foresee a future of national tours, sold out amphitheaters, New Times music awards, indie label deals and all around success. When Jonathan Sakas starts to hit the big time, remember you heard it here first.