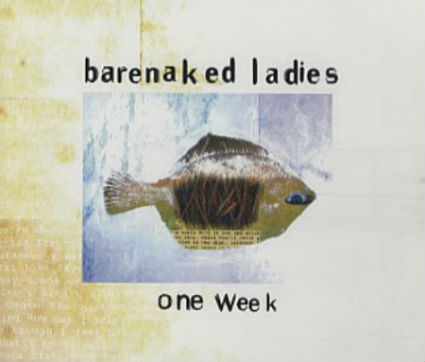 [Fran and Stephen are observing from the roof of the mall]
Francine Parker: What are they doing? Why do they come here?

Stephen: Some kind of instinct. Memory of what they used to do. This was an important place in their lives.
– Dawn of the Dead (1978)
Hard to believe it's been 20 years since Barenaked Ladies' One Week was a popular, chart topping hit. I remember driving around Tempe in the fall of 1998 listening to The Edge 106.3 FM, and it seemed like this song was on the radio every 5 minutes…sometime between songs such as Harvey Danger's Flagpole Sitta and Third Eye Blind's How's It Gonna Be? These songs were heard many times on trips to and from Blockbuster Video (as well as Hollywood Video) to rent and return erotic thrillers, midnight outings to Denny's, lonely drives to North Phoenix, my job at Abercrombie and all the rest.
One Week was one of those cheesy songs that I would have never admitted to liking but knew the words to and would secretly enjoy when it came on. It wasn't passionately hated enough for me to like ironically, the way I later did with boy bands and Vitamin C, it was at least preferable to rapcore, a genre which I loathe to this day. In 1998, I would have complained about all the music on the radio sucking except the oldies station. This seems laughable in the context of today, when nearly every pop song is processed gibberish. In hindsight, we didn't know how good we had it! One Week has the feel of a relic from a much more innocent and carefree era. It might as well be 100 years ago and a different country. The plethora of pop culture references in the lyrics are characteristic of Generation X works made at what Bret Easton Ellis refers to as the "height of the empire."
Watchin X-Files with no lights on,
We're dans la maison
I hope the Smoking Man's in this one
Like Harrison Ford I'm getting Frantic
Like Sting I'm Tantric
Like Snickers, guaranteed to satisfy
I remember thinking these lyrics were so dumb, but not because I was opposed to the idea of cheesy pop culture references in songs. It's just that the particular items referenced weren't things that I personally was into. I did after all, write a song about Michael from Melrose Place. To revisit and paraphrase that memorable line from 1978's Dawn of the Dead, such things had an important place in our lives.
I felt as though I owed it to Barenaked Ladies to write something about One Week, given how much enjoyment this jam gave me in 1998. 20 years later I can finally admit it.