So the "Stuff White People Like," Ikea throwpillow crowd and their new found multinational corporate allies, are all up in arms over the reactionary Arizona immigration bill, SB1070. They are appalled at the prospect that *gasp* the police can ask for your drivers license or ID when they pull you over. Wait don't they already do that now? Next time I get stopped by a cop who asks to see my license, registration, and proof of insurance I'm going to go to the ACLU and ask why my rights are being violated. The new immigration law will lead to racial profiling, they say. Hellooo Mcfly, anybody home? There are zillions of people of Hispanic ancestry in Phoenix, and the police are not going to be messing with anyone who speaks fluent English and has an ID card just because they look brown. Sure, cops can be assholes…but most of them are already awash in "sensitivity training" and generally would prefer not to bother with anything that's going to create annoying paperwork for them unless it's for a valid reason. I mentioned a couple weeks ago, that we found a Mexican dude passed out in the bushes in our backyard. The guy spoke almost no English, had no identification, and was carrying in his possession nothing but a weed pipe and a pair of women's underwear. And I'm pretty sure the cops let that guy go and even gave him a ride home. In the cases of some of the officers who were murdered by illegal aliens, the suspects had previously been arrested dozens of times. They should have been deported long before but were allowed to remain because federal authorities never bothered to do anything. Thus a state law was passed, which simply mirrors the already existing federal law.
Who doesn't have an ID card anyway? How backward do you have to be to be a naturalized citizen of a country and not carry any ID whatsoever?….which leads us to the unintended victims of the Immigration bill:
That's right, prehistoric cavemen living in the mountains of the Arizona desert, and misc backwoodsmen lurking about in the deep forests of Flagstaff.
The notion that if you're opposed to illegal immigration and favor a pro-low immigration policy similar to(by today's standards) the almost complete moratorium on immigration we had from 1924-1965(which ushered in the golden age of America 1945-1965) …the idea that that's somehow racist is nothing but a red herring and the product of a generation which lacks critical thinking skills and can't appreciate historical context of anything that happened prior to 1980. People who oppose illegal immigration are not racist and not anti-immigrant. We merely support a pro-low immigration policy. Mass immigration from specific countries leads to a sort of neo-segregation as it deprives people of the need to adapt to their new country, and so they form cities within cities. They often live in completely self segregated Spanish speaking neighborhoods and have their own separate newspapers and television stations. Even the fact that so many people self identify themselves as Hispanic or Mexican is in itself a form of racialism and proof that attempts to integrate them into our society have largely been a failure.
The reason why the racism charge is also B.S. is that it fails to take into account the fact that many Hispanics are opposed to illegal immigration and support the new law. When an initiative passed a few years ago making English the official language of the state, it's worth noting (but rarely mentioned) that 50% of Hispanics voted for it! They don't want to self identify with a specific race. I'm of mostly Scandinavian and German ancestry, but feel no allegiance toward those nations and do not partake in any ancient grievance mongering related to their historical conflicts. The mere mention of my ancestry is generally limited to the context of complaining about how my skin can't handle being exposed to sunlight for more than a few minutes.
And what happened to localism? Why are liberals allying themselves with transnational big businesses like Walmart and Mcdonalds? Lately it seems the left are giving Mitt Romney a run for his money in terms of how much big business cock they can suck. Ah the times they are a changin' again. Just because some CEOs are getting rich by selling out their culture and countrymen's standard of living, doesn't mean that it's better for the community as a whole. Funny how you never see the people who profit off these folks living among them in the slummy environments that they've created. Sure, it all looks great now when you just cash your check from a gated community, but slowly(or perhaps rapidly) the demographics are changing and the children of these folks are coming of age and voting themselves into power. It's not because conservatives oppose illegal immigration that Hispanics vote against them(okay so maybe it pushed it from like 70% to 80%). It's because impoverished Hispanics simply vote overwhelmingly socialist and liberal as is evident in almost all of South America. Sure, so they are conservative a on a few religious issues like abortion. Great, so we'll have a socialist espanol speaking suprawelfare state, but with abortion finally illegal, and a resurgence in usage of the term "Christmas Tree" (as opposed to the secular Holiday Tree"). No thanks, that's a shitty tradeoff. Liberals and gays should also not dismiss the fact that illegal immigration is often counter-productive toward many of their political goals. Poor immigrants are generally religious, culturally conservative, traditionalist chauvinists who vote against gay rights and women's rights.
Conservative libertarians should take note that the intention of having a "free-er" market may suicidally result in just the opposite. It's worth mentioning that southern California was once a bastion of Goldwater conservatism. Now Los Angeles is heavily democratic, and Orange County barely leans moderate republican save a few pockets of resistance. Much of this can be traced to the changes in demographics in the region as opposed to the "changing of minds." Thus ironically. libertarianism without borders actually leads to statism.
Here is a photo of Maryvale developer "John F Long" with Ronald Reagan in 1958, selling new homes to World War II veterans.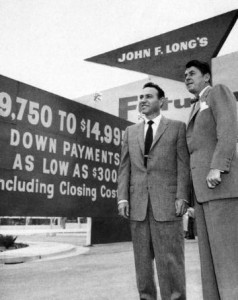 Now Maryvale is a third world scumtown. Gee, those World War II vets must have really made a mess of the place…or could there possibly have been another culprit in Maryvale's demise? Hmmm…
There's something else, too. Many of these southwestern states: California, Arizona and Nevada have severe water shortages on the horizon, and yet we're being told we need to take in hundreds of thousands of new people every year. What sort of effect is this going to have on the price of utilities let alone the actual physical problems associated with these shortages? Is this cost factored into the equation of how much money we are supposedly saving with cheap labor? And what about the environment? Just how much sense does it make to import millions of impoverished people from rag-tag third world countries into a vast metropolis in the middle of the desert? Continued population growth in these places will lead to more land development, more urban sprawl, more crummy condos and ghetto apartments, more Walmarts and Food Citys, or to paraphrase Peter Cook as the devil in the film "Bedazzled" (1967 version)
"All right, you great git, you've asked for it. I'll cover the world in Tastee-Freez and Wimpy Burgers. I'll fill it with concrete runways, motorways, aircraft, television, automobiles, advertising, plastic flowers, frozen food and supersonic bangs. I'll make it so noisy and disgusting that even you'll be ashamed of yourself! No wonder you've so few friends; you're unbelievable!"
When a civilization becomes highly advanced it begins to take polite society for granted, forgetting about the inevitably irrepressible monsters from the id, which still exist in all of us. And the Id of course, is the part of the psychic apparatus which impoverished people, including immigrants from third world countries, most often live by.
"The Romans conquered the barbarians—and the barbarians conquered Rome. Colonization of the mother countries by subject peoples is the last chapter in the history of empires—and the next chapter in the history of the West—that is now coming to a close. -Pat Buchanan, Paris Burning

Brandon Adamson is the author of "Beatnik Fascism"