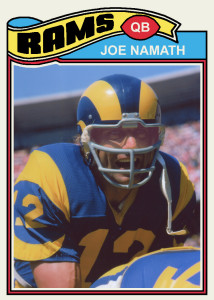 The Cardinals should persuade Kurt Warner or Jeff George to come out of retirement.
I wish this was seriously being considered. It would be legendary if it actually happened. Though the fact that they re-signed Lindley a few weeks ago tells me they are not really "thinking big."
The argument generally given why they chose Lindley is that "he was the best that was available, and he is familiar with the offense."
First off, there are a lot better quarterbacks out there than Lindley(any on the free agent list for starters.) My point of course is that getting a quarterback to come out of retirement like Jeff George or Kurt Warner or even Tim Tebow would be a bold and creative move. There was nothing bold or creative about taking Lindley(except it was brave to think he could lead the team through the playoffs if Stanton went down…insanely so in fact.) So there is no reason to believe they would do something epic like bring someone out of retirement. I've been watching football for 30 years and Lindley is one of the worst quarterbacks I have ever seen. He's down there with T.J. Rubley(though I actually liked Rubley when he played for the LA Rams.)
Warner doesn't have to learn any of Arians' schemes. He can wing it. The offense will adapt to him. It's not like his style was ever about physical fitness. I'm sure he can still drop back and throw a deep ball accurately, something Lindley can't do while in prime physical condition. There are other options besides Warner though. The cardinals aren't going to win the super bowl or even the division with Lindley at QB. They're going to need more than field goals. I'm not a big fan of Tebow, but even his QB rating is almost double Ryan Lindley's. So yeah think about that for a second. The Cardinals QB is actually WORSE than Tim Tebow, and Tebow is available.
In the 1977 "Mud Bowl," trailing in the third quarter the Rams considered putting an aging Joe Namath in the game. From Wikipedia:
…redemption and a Hollywood ending was there for the taking. After a disastrous three quarters of turnovers and only trailing by seven points in the opening round of the playoffs, head coach Chuck Knox seemed ready to pull Pat Haden and insert Namath. Rams assistant coach Kay Stephenson said Namath looked great warming-up in the third quarter and advised Knox to put him in. The television audience was on the edge of their seats as it appeared Namath would replace Pat Haden and save the Rams' season. But Knox hesitated. Haden's problems continued and the Rams lost to the Vikings by a score of 14–7 in a sea of mud at the Los Angeles Memorial Coliseum.
The Cardinals have a chance to make their storybook season truly something magical. Will they settle for being merely typical?