It was only recently that we wrote about The Blankz'  instant Arizona classic,  White Baby.   The impressiveness of that release set the bar pretty high. Bands often change, experiment and grow, which isn't always a good thing if what they already have is working.  So when I discovered I had something new to review for The Blankz, I was curious if they had retained the magic that was captured in White Baby.
Thankfully, their brand new EP, (I Just Want to) Slam wisely sticks with the same formula of weirdo pop punk + synth, which won them some small scale critical acclaim. The first thing that came to mind when listening was that (I Just Want to) Slam would have been a perfect for one of the obligatory slam section parts of  just about any 90's skateboard video.  It's kinda too bad they don't really make those kinds of skate videos anymore, and it's all pretty much on youtube now (or maybe they still do, and I'm just too old and out of touch to know about it.)
One thing which defines The Blankz' songs is how catchy they are. Even after only a single listening sesh, I find myself repeating the choruses in my head over and over. Hell, i'ts been almost a month since I heard White Baby, and that's still annoyingly stuck in my brain. Time will tell what kind of mental staying power (I Just Want to) Slam has. It's like they put drugs in these songs or some kind of MK Ultra style, subliminal mind control messaging. Anyway, potential listeners beware: these songs will stay with you.
I suppose I should talk about the actual substance of the music here. The title track (I Just Want to) Slam is fast paced right from the opening bell and maintains the same level of energy throughout. The vocal performance is among the better I've heard for this genre of music. Vocals are clear, on key and delivered with balls. What more can you ask for? This is music for moshing, just letting loose and having a blast in the pit….but of course it can be a metaphoric anthem for how to approach other areas of life.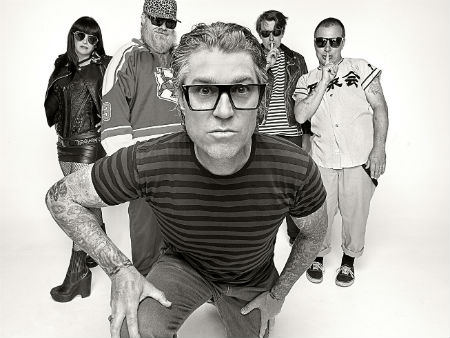 There is a second song on the album, called Baby's Turning Blue. It's a short but punchy jam which gives a brief and peculiar narrative of a punk rock "baby" growing up to fall victim to drug abuse. The guitars in this song are awesome, tonally and technically. The timing here is great, with frequent breaks and pace changes which all go off without a hitch. This band is tight. Everyone is on the same page. If I have one criticism it's that I wish this song was a bit longer and elaborated more on the interesting lyrical premise. The vibe of Baby's Turning Blue reminds me of early 90s Orange County or San Diego punk music, even though there is nothing explicitly retro about this music, and I can't think of any specific examples of bands these guys sound like. It's more of a feeling.
Listening to The Blankz is like if you were to resurface a fond memory of being at the Warped Tour sometime before it started to suck. The good news is that The Blankz are in the here and now… and continuing to crank out cool stuff. Cover art has a great aesthetic by the way.
For more info:
http://theblankzband.com/
https://soundcloud.com/theblankz
https://www.facebook.com/theblankzband/
https://www.instagram.com/theblankzband/