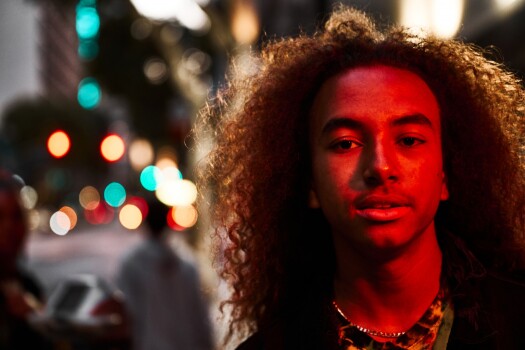 Death Is Trying is a new single from 14 year old producer, singer/songwriter and rapper, Phoenix FYA. Something of a musical child prodigy, he got his start playing leads in school play productions of The Lion King and Aladdin. He considers himself to be environmentally and socially conscious and a lover of nature.
Musically, he definitely has some skills, which are evident in his latest jam. In fact, I would never have guessed he was only 14 from listening to the recording. It's very professional, and his performance is surprisingly mature. He has a distinctive vocal style, which combines elements of pop, R&B and hip hop. It's like if you were to take a classic R&B style singing voice and throw in a bit of Gen Z hip hop flavor. A good singer, Phoenix FYA also shows some dynamic ability as he alternates between narration, rap, etc… all within a single song.
The backing music features some piano to set the appropriate emotional tone of the track and provide some stylish ambiance. There's also some subtle analog-like tape hiss to give the track an organic, retro vibe. The beat is fresh but light, which is good because the overall music is engaging and hypnotic. Death Is Trying is a sophisticated release in both performance and production. Phoenix FYA has a lot of potential, and I'm sure people will be hearing more about him in the coming years.
For more info:
http://www.phoenixfya.com/
http://www.instagram.com/phoenix_the_fya