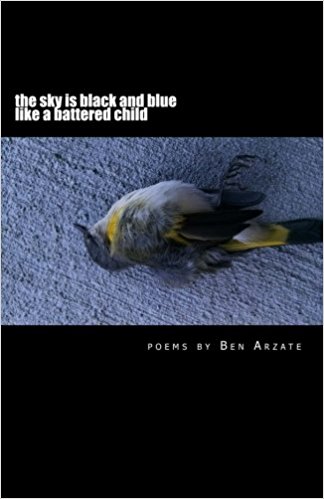 For those that might be unfamiliar, Ben Arzate is well known in certain circles as a prolific reviewer of alternative literature and edgy political books. In fact, he may be the most prolific indie book reviewer in contemporary times. Yet, he manages to find the time between readings to author some lit of his own, such as his recent poetry chapbook, the sky is black and blue like a battered child.
At only 25 pages (with some poems only making up a fraction of a page,) it is a true chapbook. Though brief, the book somehow manages to retain enough fullness to pass as a complete work. As a minimalist, I appreciate this in a way others may not. It's always a good sign though when a poetry book leaves you wanting more, which is the case here. Despite the mildly disturbing title, there is nothing particularly offensive in the book's contents, save for a couple of lines (you'll know them when you see them.) If there are observable themes in this work, they would seem to be loneliness, regret and despair…peppered with a touch of apathy.
I found it interesting that in several places, analog "tv static" (also known as white noise and famously depicted in the film Poltergeist) is referred to as being something desirable to watch (though it is unclear whether the author approves.) I can relate to this in that I used to love watching TV static. There is something very calming about it. In fact, back when I used to work in Cubesville, there was a youtube video that simply played 10 hours of tv static, which I would blast into my headphones to drown out the sound of my chubby co-workers making disgusting noises as they gobbled up the unhealthy snacks provided to keep them happy, well-fed and productive cubefarm animals.
From the poem, good night day dreams:
the radio plays mozart
the tv plays static
while she sits on her bed
and reads flowers in the attic
That's actually my favorite line from the book and sounds like my kind of afternoon.
Arzate frequently makes use of unconventional structuring in his poems, the sort of which would annoy reactionaries and traditionalists in the lit world. Being that I can't stand those types of people, I perversely enjoyed these deviations all the more. Some poems consist merely of a single sentence, phrased as a question. There is also a poem titled "Reflection Text" in which all of the writing is reversed, requiring a mirror to read unless you're one of the doppelgangers in Journey to the Far Side of the Sun. Another poem I relate to in this collection is Brad, which briefly chronicles a person receiving wrong number phone calls from a woman and being disappointed when the calls stop coming. There are lonely points in a man's life (particularly a reclusive writer or artist's life) when human contact is so minimal that even the slightest, superficially pathetic "romantic" interaction or empty fantasy can be gratifying.
the sky is black and blue like a battered child very much reminds me of 90s zine poetry, both in tone and style. It has a pre-internet quality to it that's difficult to put into words, but one which someone my age will instantly pick up on. Even though Ben Arzate appears to be about ten years younger than me and firmly within the millennial demographic, this strikes me as a precociously Generation X book. Arzate's refreshingly not trying to save the world, fight social injustice or do much of anything here. Still, the sky is black and blue like a battered child succeeds in punching above its slim weight.
For more info:
the sky is black and blue like a battered child on Amazon
Ben Arzate's blog:
http://dripdropdripdropdripdrop.blogspot.com/