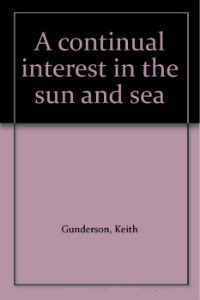 "I was a gull once
way back then
way back when
and if I hadn't
much to do now
I'd be that again."

-Keith Gunderson from "A Continual Interest in the Sun and Sea"
Looking around at all the neat stuff today that goes
unappreciated, while the most uninteresting and uninspiring
works get hailed as genius and trumpeted from every orifice of society….I often seek out obscure older books, records and films curious as to what classics may have unjustly went largely unnoticed in another time.
While at Bard's Books with Ace one day, a book caught my eye called "A Continual Interest in the Sun and Sea" by Keith Gunderson, 1971. It's a collection of untitled poems(the author hints it is really just one long poem) which as you might ascertain from the title, all relate to the experience of the sea in some way. They aren't all about being on a boat in the ocean of course. Some relate to romantic beach adventures, the cheap amusement park atmosphere on the Santa Monica Pier, taking baths, gazing out at the stars, or merely the sea as somewhat abstract idea.
The author manages to capture the ambiance of the sea perfectly. I read this book in the bathtub in Phoenix, summer 2011… but I might as well have been sailing out of Marina Del Rey in 1965. If you have the slightest bit of imagination at your disposal, and harbor an escapist's longing for the wonders of the sea, this book can really take you there.
25 cent photos while you wait.
I'm pleased to say also, that the author, Keith Gunderson is still alive and well teaching philosophy at the University of Minnesota, and more importantly still writing. His bio on the back of the book says that he taught philosophy at UCLA from 1964-67. With his young family he spent a good deal of time exploring the oceanic environs of southern California, picnicking by Zuma Beach or wandering around the Santa Monica Pier absorbing its circus variety of sights and sounds. Talk about being in the right place at the right time! He also apparently wrote a follow up called "Inland Missing the Sea" which appeared together with it in a later version.
[Edit: Since this review was published in 2011, Keith Gunderson passed away in 2013 at the age of 78. RIP]
http://philosophy.umn.edu/people/FacultyProfile.php?UID=gunde002


Brandon Adamson is the author of "Beatnik Fascism"