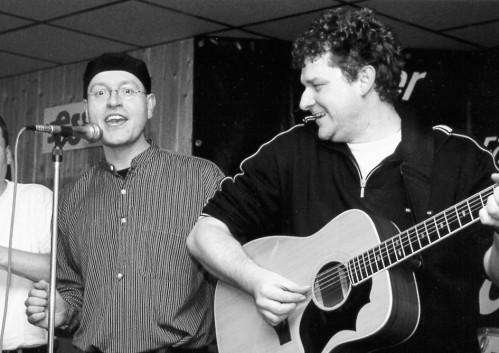 In what amounts to a highly creative musical interpretation, musicians Stephan Weber and Oliver Soerup have produced their own derivative adaptation / homage to the famous Led Zeppelin song, Kashmir.This acoustic epic, titled Short Trip To Kashmir certainly does the original song justice. One area I would immediately give credit to is Stephan Weber for the vocals. It's not easy to recognizably emulate the voice of Robert Plant, one of the greatest rock vocalists of all time. Weber's performance isn't perfect, but it's damned good, and he performs at a high enough level for the song to be effective in its purpose.
The acoustic guitars and other instrumentals (bass, percussion, bagpipe-like keyboards) are all phenomenal, played with delicate precision while retaining a gritty, authentic sound with minimal effects and analog-like production values. In fact, tonally and largely due to the instrumentation used, I would venture to say that this version captures slightly more of the Arabic / Middle Eastern / Indo-Pakistani musical vibe (which influenced the original song) than the original song itself did.
Also worth noting is that Short Trip To Kashmir is also accompanied by a lengthy animated video. In a sense, it could almost be classified as a short film. The quirky and well done animation helps give the track a contemporary flavor making the music accessible to wider audiences. It also adds a visual component of fun and adventure to the music, giving the viewer a glimpse at the illuminating spirit of living life, while at the same time the musicians reveal a lighter side and remind us that they don't take themselves too seriously.
All in all, Short Trip To Kashmir is an impressive endeavor. I could actually see this playing in some film festivals, if the Weber and Soerup don't run into any copyright snags. While derivative in nature, there's enough depth and substance here to qualify this as a work of art in its own right.
For more info:
https://soundcloud.com/stephan_weber
https://open.spotify.com/artist/5U6DX5fs6HwQZResB0YQ1c