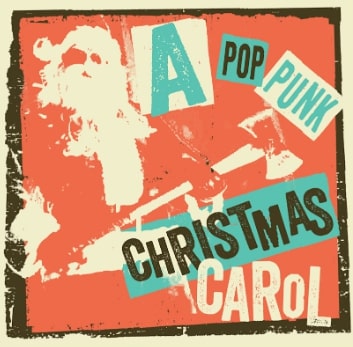 If you're looking for a snazzy gift this holiday season, A Pop Punk Christmas Carol would be the perfect stocking stuffer. This compilation album from Gutter Pop Records features 18 tracks worth of pop punk covers of your favorite Christmas classics. Not since the Shirley Temple DVD box set have we seen an offer this difficult to pass up. Seriously though, this album rocks. It contains song contributions from bands all over the world, countries such as Italy, Japan, USA, Russia, UK, Germany and even Canada. You might think that including artists from so many different geographic areas would negatively affect the consistency of the sound, but that isn't the case here. It sounds remarkably cohesive and emits a relatively pure pop punk vibe across the board. These bands have got this sound nailed down to a science.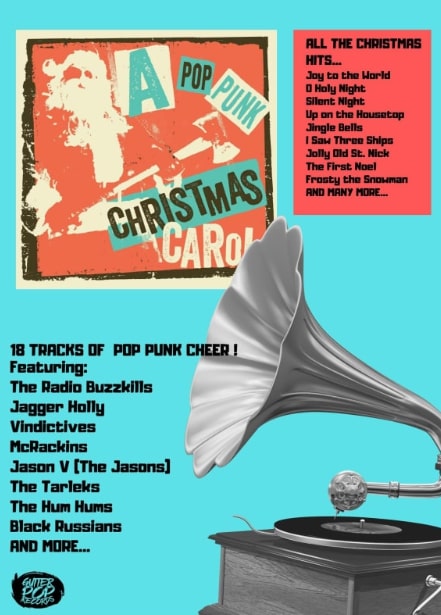 The opening track, O Holy Night leaves a solid impression and sets the standard for what to expect. The vocals of Jen Buzzkill are enchantingly angelic. It's refreshing to see female punk performers who aren't merely caricatures doing cosplay but who can actually sing and have their own style. Her dynamic voice carries the song and gives it an avant garde flair. Her performance (and those of others elsewhere on this release) elevate the content, allowing the listener to realize this isn't just a novelty album. Another track, Silent Night from Black Russians (who I'm going to go out on a limb and guess aren't actually black) is an instant hit and one of the best jams on the album. It's probably the catchiest tune on here. Black Russians also recently released their own full length album Death By Communism, which is sure to resonate with millions of people, living or otherwise.
Everything on the album is clean, crisp and tight. High quality production is maintained throughout. It's also interesting to see how the different groups incorporate their own creative twists on what we recognize as familiar holiday songs. Vindictives' rendition of Jingle Bells effectively utilizes a pace which oscillates between lightning fast and caterpillar slow. Frosty the Snowman ("The Beatersband" from Italy) is another standout track. Fronted by the superb vocals of Donatelle Guida, this is probably my favorite song on the release. It has some great vintage guitar tones and the subtly tender ambiance just fills me with the Christmas spirit.
It should also be noted that Joy to the World is a collaborative effort which combines the talents of Jason V from The Jasons, Jenny and Zac Buzzkill From Radio Buzzkills and Mirko and Aleksander666 from the Black Russians. Rumor has it that these people will be working on more music together in the future, though we don't yet know the final form of this supergroup. Pop punk aficionados might also be pleased to know the Jay Prozac (of The Prozacs fame) makes an appearance on this release with his powerful version of, Angels We Have Heard On High.
A Pop Punk Christmas Carol may be a fun Christmas album, but it also showcases some serious talent and offers a glimpse at a plethora of the up and coming bands in a genre that's been quietly reemerging.
For more info:
https://gutterpoprecords.bandcamp.com/album/a-pop-punk-christmas-carol