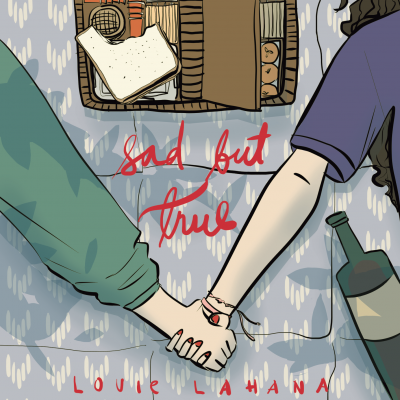 Sad But True is a brand new jam from Louie Lahana, an artist whose recent single, Taxi we wrote about back in April. Much of what was said there also applies to this release as well. Lahana's rare blend of indie alternative / acoustic folk and hip hop is memorably distinctive. Sad But True feels more personal and intimate than some of his previous work. Knowing a little more about Lahana and the context, his sound, which resembles a slightly grittier, east coast version of a cross between Cake and Modest Mouse, is more familiar to me now. This combo of indie folk and hip hop does have a slightly 90s retro feel to it, and it appears the era had some formative effects on Lahana.
This particular song deals with the artist's time spent living in Greenwich Village in the late 1990's. It's a nostalgic, romantic flashback track that is sincere and heartfelt and should resonate with listeners. The lyrics paint such a vivid and detailed picture of the events that they could almost be used as time travel coordinates, if you wanted to go there and recreate the experience for yourself. The song is relatable to me because I lived through that time period (though not in Greenwich Village) and also share a nostalgic fondness for the developmental relationships and interests I had during that same time. Just the other day I spent several hours online trying to locate the exact style of Adidas track jacket, which served as my daily uniform throughout most of 1997-1998.
The music is very organic and raw without being abrasive, really a "true" indie track. The female backing vocals do a great job of softening the tone and enhancing the song's romantic ambiance, which might otherwise have been minimized if one were listening without paying attention to the lyrics. For his part, Lahana's delivery is lively and animated througout, treating us to a full spectrum of emotions in an actional packed personal retrospective that clocks in at over 4 minutes long.
For more info:
Website: https://louielahana.com/
Spotify: https://open.spotify.com/artist/1ZZ4wLyYk5QPdlg3uoEXnr