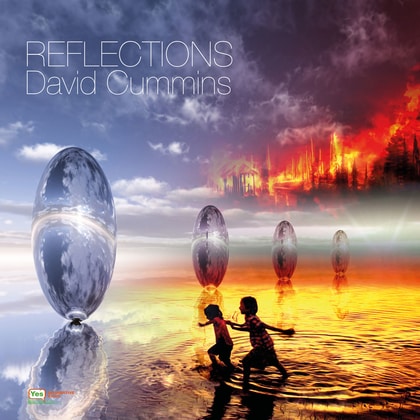 Reflections is a new album from Manchester-based singer/songwriter, David Cummins. Inspired by legends like James Taylor and Roger Waters, David is a veteran musician, who honed his craft during a late 70s and early 80s golden age period of UK classic rock. After a lengthy hiatus, he recently returned to making music as a way to come to terms with the death of a love one.
A powerful album, Reflections immediately brings to mind comparisons to Pink Floyd and The Moody Blues. This isn't surprising, given that David collaborates with guitarist Calum Robertson, whose work makes an appearance on several of these tracks. A surreal and synth-driven atmosphere gives each song an epic, orchestral aura. Meanwhile, rocking guitars and engaging vocals constitute the heart of the music. The vaguely psychedelic ambiance is entrancing, allowing the listener to take a meditative mental journey. This music has cinematic, almost fantasy quality. Indeed, one such mesmerizing track is even titled It's Like Living in a Movie. One of the darker songs musically, Save Our Soul, opens with a synth intro that sounds like something you'd hear on a John Carpenter film soundtrack. My second favorite jam on this album is Caterpillar Eyes, which features funky guitar work and some penetrating lyrics.
Perhaps what's most impressive about Reflections is the level of depth. This is a true "full album," and it explores a vast array of subject matter: romance, spirituality, angst, societal struggles…the list goes on. The lyrics don't take any superficial shortcuts either. The lyrics (often abstract) are rich with detail and symbolism. There's a voyeuristic element here, as the listener often feels like they're eavesdropping on someone's private thoughts. It's almost finding a diary or a stack of deeply personal, yet profound letters. The final (and title) track, Reflections clocks in at over nine minutes and contains probably the best vocal performance. This song is absolutely outstanding and is truly a cut above. David Cummins clearly has a passion for the material and is a very cerebral songwriter. Regardless of the circumstances, it's always great to see someone inspired to get back into music and manage to produce work of this caliber.
For more info:
https://ffm.to/reflections-album.opr
https://www.facebook.com/davidcummins.music