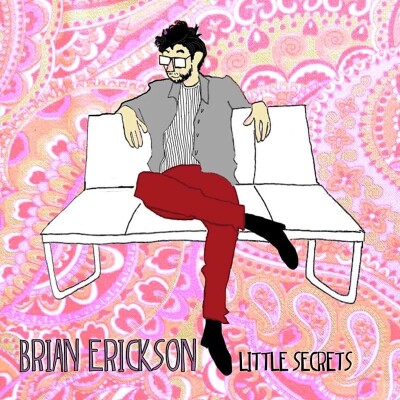 Little Secrets is a new album from singer/songwriter Brian Erickson. Slated for release on September 18, 2020 (courtesy of Mint 400 Records and Aqualung Records), this album is simply dazzling. It was recorded during the COVID-19, with classic homemade LP's like Paul McCartney's Ram and Clean by Soccer Mommy serving as the artistic inspiration. There's nothing cheap or "homebrew" about the audio quality though, which is sonically phenomenal. When most (indie-minded) people think of home recordings, they imagine something along the lines of the late Daniel Johnston's albums, flawed, raw and somewhat abrasive recordings that capture your heart with their authentic charm and unappreciated songwriting genius. Brian Erickson's Little Secrets contains all of the positive characteristics but without any of the negatives.
Musically, the best way to describe the sound is that it's bright and sparkling indie pop, in the spirit of Ben Folds or Of Montreal. Brian humbly categorizes it as "old fashioned," but really it just represents a time when music was more authentic and performers could actually sing without relying on all kinds of post-production tinkering and gimmickry. It has that 1960s-70s songwriter quality to it, but also resembles the early-2000s indie revival which flourished before the current wave of over-processed corporate pop swallowed everything whole and never looked back.
Organic guitars and subtle synths blend with daydreamy reverb to cultivate the ideal ecosystem for Brian's voice, which ultimately carries the album. Brian Erickson's vocals are pristine. This guy can sing better than any contemporary indie pop musician I've ever known. Tracks such as Hit or Miss (not to be confused with the viral Tik Tok meme) actually remind me a lot of Simon and Garfunkel's music. The sentimentally innocent yet sunshiny afternoon ambiance really hits the 60s'-70's bubblegum pop sweet spot. Indeed, it wouldn't be a stretch to think of Brian Erickson as a sort of "one-man Partridge Family."
Seriously though, this is so good. The title track Little Secrets is a surefire hit. My personal favorite song on this album is the ethereal gem, Mall Madness, which also manages to successfully incorporate a hint of twang in its outro. Some singles which appear on here like Another Unfinished Novel and Shore Towns are already available on major streaming platforms for your listening pleasure. Rumor has it, that Brian Erickson will be performing a virtual concert on the evening of the album's official release (Friday Sept 18), so mark your calendars and save the date.
For more info:
https://linktr.ee/brianitcantbedone
https://www.facebook.com/brianitcantbedone
https://www.instagram.com/brianitcantbedone/
http://brianitcantbedone.bandcamp.com/